Just some good SubGenius advice! Remember living for "Bob" is better than that crappy job!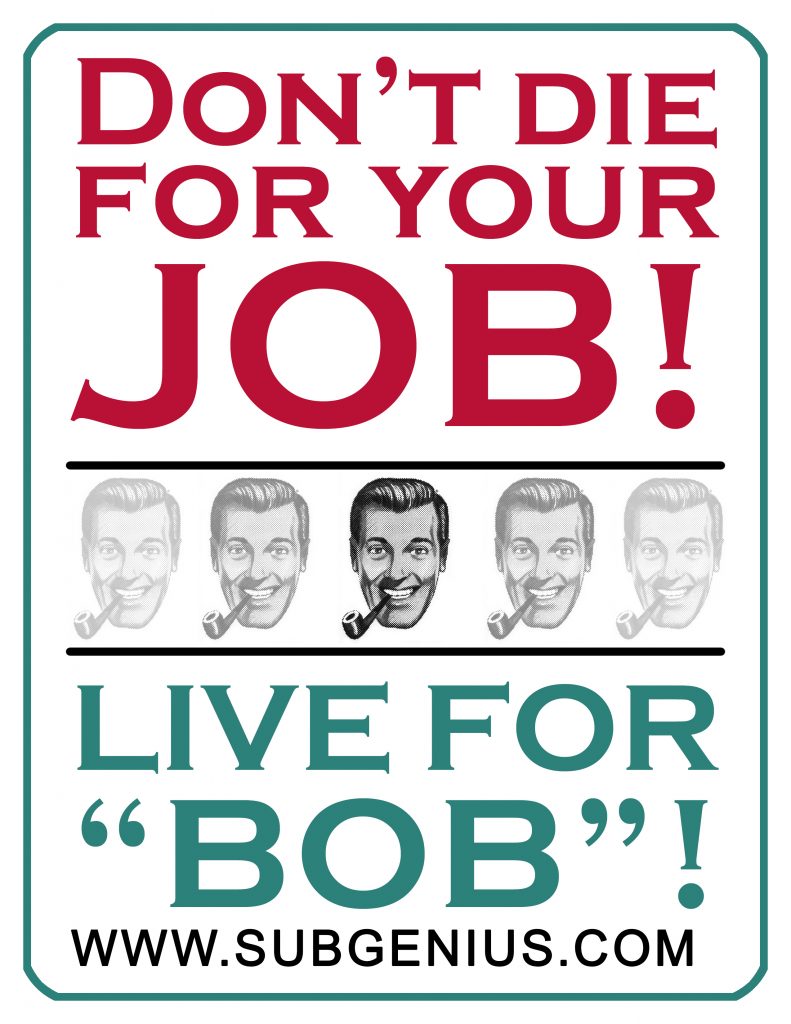 And it's the final post of my job hacks – for now! I plan to round these up in an orderly post and probably do them as a zine. "Bob" willing it might eventually turn into a book or something!
So here's the final-for-now set of tips for you weirdoes, mutants, slackers, and people who want to survive and perhaps overthrow our job world. You can find more the rest in Part 1, Part 2, Part 3, and Part 4.
PROFESSIONAL STUFF
Line Up Success Stories – Do something good?  Get an email from them to your boss, get them to say thanks, get a LinkedIn testimonial.  Line up things that make you look good, so mistakes get forgotten and you have ammo to deal with any critique.  Plus you have references.
Line Up Certifications – Certifications look good on a resume, prove what you can do, and often your employer will pay for them.  You might even get time off to study or take tests!  Plus you might get some specialty skills that make you hard to fire and easy to get more pay.
Join Professional Organizations – Belonging to a professional organization looks good – but there's more!  These may sound stodgy, but a lot of them provide all sort of benefits and let you network and make friends with other people as disillusioned as you are!  
REPORTS
Learn To Report – Organizations live and die by reporting, even if it's a kind of talisman to pretend you know what's going on.  Learn how to deal with reports, file them "properly," and make them work for you.
Reports Are A Break – If your job includes reports, this is a grand excuse to goof off.  Get good at the reports (it's easy if no one else wants to do it) then take more time than you need.  Also you can run podcasts, music, sports while filling crap out.
Overreport . . . – Some people with bother you for updates a lot.  Learn how to craft fast, insanely detailed reports, so they just go "uh, fine" and give up.  Be sure to use these updates to call for help, so they either do their job or get blamed when they ignore you.
. . . Underreport – Some people say they want updates but really don't want a lot of detail.  Use this to give them quick updates, ask for help, and otherwise leave them alone.  A good way to quickly drop hot potatoes in their lap as "they want to know about it."
Pay Attention – Doing reports tells you what's going on at work.  From accurate data to seeing obviously "adjusted" data, you'll get heads-ups or warnings of the future.  Take it from me, that might let you escape a layoff or reorg.
BIG PICTURE
Learn The System – Your job is going to teach you A LOT about the world and what's wrong with it.  Learn from this – don't despair, get active.  It's fine to get really cynical then apply it.
Get Politically Active – Your job taught you what's good and bad about it.  Let that direct your politics, learn from this and get goddamn active.  You might make a change.
Some Employers Don't Suck That Much – It's true.  You might be able to actually make a difference!  But it doesn't hurt to start assuming the worst.  If things really are great, then figure out how to stay and load the place with friends, allies, and minions.
Change From Within – Maybe, just maybe, you can change your employer from inside.  What kind of change depends on you and your own imagination.  If nothing else the hope to change can give you goals and a sense of mission.
-Xenofact
They just keep coming! There's probably at least one more post on my job survival tips for weirdoes and mutants. You can find posts one, two, and three as well.
Man I have to post more spiritual stuff, but I'm on a roll.
Stuff
Office Supplies  – Everyone takes them, we all know it.  Don't do anything illegal for "Bob"'s sake, but have at it like everyone else is.
Use The Throwaways – Offices waste enormous amounts of stuff or sell off equipment.  Find out how to get those fixable broken chairs or old-but-usable computers!  Maybe you even HELP OUT and get your hands on the good stuff early.
Office Giveaways – People dump food, unread books, leftover holiday candy, etc. at work.  Use this.  Sometimes you get entire meals out of this. If it's not happening, try to start it!  Also dispose of stuff you don't want at work, it's honestly good citizenship, even if your job sucks.
Snacks and Food – Some places have snacks, food, coffee, tea, etc. Take advantage of that! Why go purchase stuff or bring it in when it's there?
Benefits And More
Use Every Damn Benefit – Most jobs provide more benefits than the average person uses.  Sit down with your benefits package and use the hell out of everything!  Also it gives you an excuse to get to know the people in HR, etc. and network.
Use Discounts – Some companies and organizations provide discounts on things like computers, etc.  Find these and USE them.  Also use them for friends and family when you can, take advantage of it.
Get Therapy If You Can – If your employer provides it, get therapy.  The stress of the job and the fact people may manipulate you make therapy an important tool.
Apply Health Benefits – Especially if you didn't have any for awhile.  Get in shape, use those checkups, get those new glasses NOW.  Use them while you got them.
Use The Services – Lots of workplaces have dry cleaning, travelling barbers, in-lot oil changes, etc.  Like benefits, use these if you can!  Plus they're excises to dodge work if you want to (though a place with a lot of services probably is decent to work at).
Parking and Travel – Check any benefits for parking and travel.  Some places don't care when you use it – or consider its non-work use normal.  Prepare to save $$ because no one cares.
Training Tactics
Required Training – Required training can be boring – and often is – but it's another excuse to take time off.  You can even schedule it in ways that the prep, commute, etc. adds to time away from work.  If it's in person sometimes there's food too!
Be a Trainer – If you become a person that does training for people, youve got a way to avoid other work, meet folks who become allies, look good, and learn stuff.  Most people aren't good at conducting training, so consider this option.
Learn Tools And Software – On the job you'll probably get exposed to new tools, techniques, software.  Take the chance to learn them, especially ones you can use elsewhere.  Its on-the-job training – and you might get skills you can use in fun things or your actual life!
Use Training – If your job has training, use it.  It lets you bow out of work, helps you career, and gives you skills you can use elsewhere.  If you can make an excuse to take stuff you WANT but not relevant to your JOB, go for it.
-Xenofact