Xenofact
The latest post from the Church of the Unanswered Question! How do SubGeniuses handle people asking for "real" prophecies?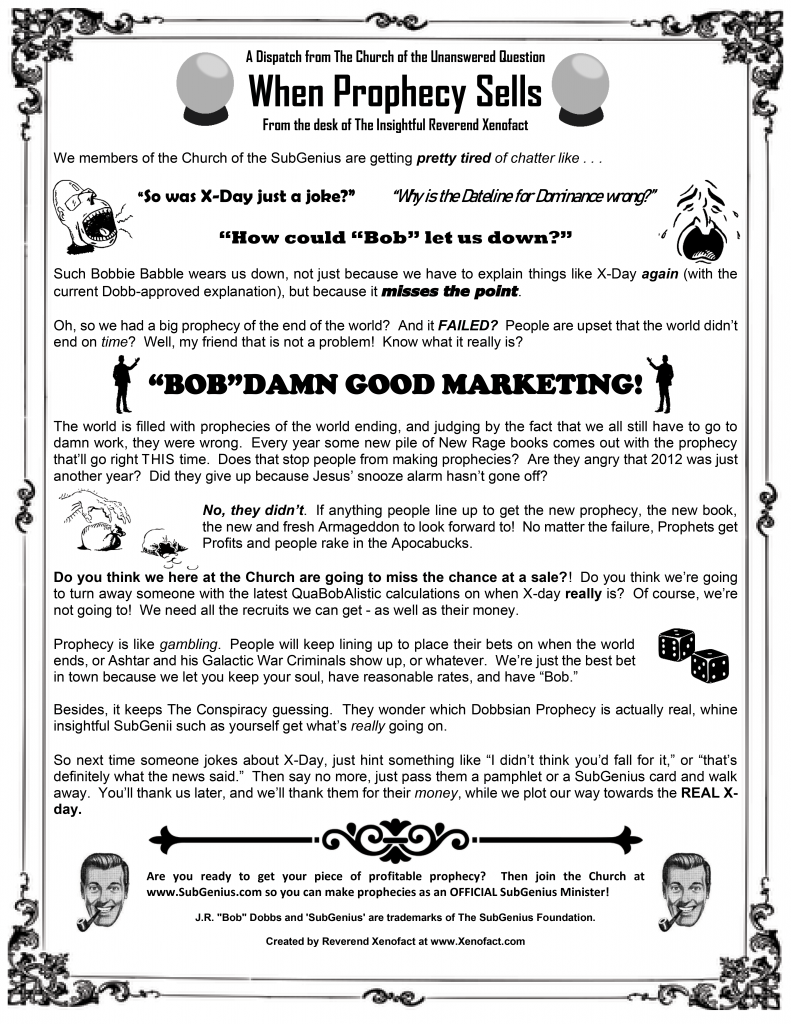 In 2023 I encountered the Hexorian movement. If you're not familiar with it (and you may not be) it's from the freeform "Chaos" magic school, focusing on the idea of a god of cities, Hexorius. A diety of the undercurrents and foundations, Hexorius had a powerful effect on those involved in the movement – suggesting not something created but something deeper and primal.
I took to these ideas because it's apparent that cities are living things, and because of my own interest in genius loci. However, the Hexorians also followed other dieties, other faces of Hexorius or a Power behind all of them. One was Valdas, the god that took on those who explored the city, but most fascinating to me was Arcadia.
Arcadia was a deity or ideal of a City To Be. A sorcerous solarpunk future, where man, magic, and nature were in balance, a place for everyone. She was a roadmap, a goal – and a goddess at the same time. A living future.
Though Hexorian magic and practices appealed to me based on previous experience, this issue resonated hard with me, and I wanted to explore what it says here.
Utopian dreams are nothing new to humanity – nor is their failure. Someone is always trying to build a utopia, and someone always has a plan, hoping to build a bright future on failed ones. In some cases, utopia seems to involve getting rid of a lot of people who don't fit the blueprint. Other ideas of utopia live only as abstract plans, turning into something else when released into reality.
The idea of Arcadia a future regarded as alive, an idea I approve of as noted in my other writings. Arcadia isn't a blueprint or an outline, but a goal of a future that was organic, balanced, a living thing, a god. It's something you form a relationship with, not follow a checklist.
Be our practices mystical or not, the idea that the future is alive is critical to our own survival. We're not going to hammer the future we want into place – the world and all in it are alive and complex, and nothing we do will change that.* We have to form a relationship with the future in order to have the one we want – or have one at all.

The future has to be treated as a living thing just to acknowledge the sheer size of it all and how connected it is to everything. To think of it in mechanical ways is to miss this.
It's not much of a leap to regard the future as a god. Perhaps, from a mystical point of view, a very rational approach. As I note – again and a gain – I find the idea of a god to be useful if nothing else. The universe is big and compex.
(Of course, in this interlinked world, it's not that hard to imagine a future as literally alive, manifesting through us.)
Thus in my daily observations, I sometimes close by saying "Unto Arcadia." A way to acknowledge the living future we can aim for. Because our future, no matter how you think of it, will be like a living thing.
In fact, if we don't recognize an organic future, we might not have one. Arcadia may be our only choice.
Unto Arcadia.
– Xenofact
* Well, if humanity wipes itself and all life on Earth out we might change it. But that's not a future of survival for us.
For some Hexorian resources please refer to:
https://dkmu.org/ – The web page of the originators of Hexorian work, the DKMU.
#OpGrimoire – A grimoire of Hexorian work, containing some of the resources on the DKMU website.
So many tales and conspiracy theories have "the most dangerous occult book." It's enough the late Sir Terry Pratchett parodied it with the "Necrotelenomicon" a book by Achmed the Mad (who preferred to be called Achmed I Just Get These Headaches). But how is such a book portrayed in fiction?
Inevitably it's some rare and creaky tome, thick with horrific pages, and challenging or dangerous to read.  It drives readers mad, it crawls with brain-twisting truths, it twists reality  To read it is to feel something else is watching over your shoulder and it has its own plans.
However, what would a truly dangerous occult book be? Not some kind of Anti-Personnel Grimoire (a term The Necronomicon Files by John Wisdom Gonce II used delightfully). A book that is a threat to the world isn't that much of a threat if it drives most readers mad. So what would such a book truly be like, a book that delivers real power and isn't a trap?
Well first, it wouldn't damn well drive you nuts. A Dangerous Occult Book – let us call it a DOB – would probably not make people insane by reading it or even being in one's possession. Such things tend to be noticed, and such owners tend to have painfully short relations with stakes and kindling if they stay reasonably sane.
Secondly, A DOB would not be particularly hard to use. It may crackle with power, but if that power takes too much effort to use, it's simply not worth the time. It would be streamlined, simple, clear, and give you useful abilities. If a DOB takes too long to use and is too hard you're better off using a fist, a lawsuit, or just doing something else.
A DOB would allow you to have an effect and it wouldn't necessarily be what's expected. Do you need to summon demons – or just manipulate minds? Is it worth turning lead into gold when precognition can let you make money more subtly? Must you be able to throw obvious lightning, or would subtle curses be more you route. It'd would work, but it might not be obvious to our expectations.
A DOB might contain a lot of useful information that changes one sense of place in the universe. Simply and effectively, it would change you and empower you by helping you see yourself differently. It would keep you from being trapped by existing religions and traditions, freeing you to use that power in its pages.
Finally, a DOB would be easy to transmit, spreading power among those in the no. It might not be overly long, it would be clear, it could be copied. Replication would make it even more dangerous as it could be spread about, extra copies hidden, etc.
A truly Dangerous Occult Book wouldn't be some hernia-producing grimoire. It would be a manual.
Of course, if we're all looking for big thick grimoires filled with incomprehensible diagrams and fonts off of a heavy metal album? Then maybe we'd miss the simpler but more powerful books under our nose . . .
Or someone could be writing it right now.
– Xenofact